This week, our In Focus section reviews the State of Texas Access Reform (STAR), Children's Health Insurance Program (CHIP), and Healthy Texas Women (HTW) Medicaid managed care request for proposals (RFP) released by the Texas Health and Human Services Commission (HHSC) on December 7, 2022. Medicaid managed care organizations (MCOs) will serve over 4.6 million members. Prior STAR & CHIP program contracts were valued at roughly $9.7 billion annually, with new contracts to be worth more.
Background
Texas is currently in the process of rebidding all of its Medicaid managed care programs. A former STAR & CHIP RFP was cancelled in March 2020.
STAR is Texas' traditional Medicaid program. Under the STAR program, MCOs will provide preventive, primary, acute care, behavioral health (including mental health and substance-use disorder counseling and treatment), Non-Emergency Medical Transportation (NEMT), and pharmacy services to eligible pregnant women, newborns, children, and parents with limited income.
CHIP is the state-federal jointly funded program covering children whose families who earn too much to qualify for Medicaid but cannot afford private insurance. In Texas, CHIP contracts also include the CHIP Perinatal Program covering pregnant women who are ineligible for Medicaid due to income or immigration status to receive prenatal care for their unborn children. Once born, newborns receive 12 months of continuous coverage.
The HTW program provides family planning services, family planning-related services, and other preconception women's health services. The HTW program was originally a fee-for-service program until the Centers for Medicare & Medicaid Services (CMS) approved a Section 1115 waiver demonstration in January 2020. Texas is currently waiting on CMS approval for a waiver amendment to also add HTW Plus, an enhanced postpartum benefits package, into Medicaid managed care.
RFP
HHSC intends to award at least three contracts for each service area (SA). The maximum number of MCOs that will be awarded in the new procurement for each SA is shown below.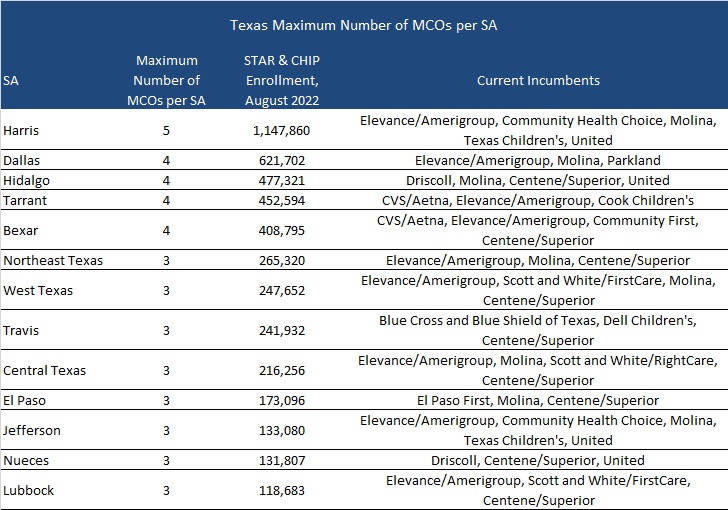 As of August 2022, STAR enrollment was 4.56 million and CHIP enrollment was over 97,000.
Timeline
A preproposal conference will be held on December 21, 2022. While optional, the conference is recommended and will include training on the completion of the Historically Underutilized Business (HUB) Subcontracting Plan. Proposals will be due February 17, 2023, with awards anticipated in February 2024. Implementation is expected February 2025. Contracts will run for six years, with three two-year renewal options, not to exceed a total contract term of 12 years.
Evaluation
MCOs will be scored out of 2,000 points as shown below. HHSC will recommend contract awards in SAs based on MCOs' final weighted scores and will take consideration of MCOs' ranking of SAs by preference.
Each MCO can be awarded contracts in up to seven SAs. However, HHSC may choose to award more per MCO if the SA has not reached a maximum number of MCOs.